PRIVATE ALFRED LALIBERTE
Regimental #622997
(name acknowledged to be changed to "Albert", December 12, 1916)
Born:  December 25, 1880, St. Norbert MB
Occupation:  Driver
Enlisted:  September 27, 1915, 2nd Battalion, Canadian Infantry
Killed in Action:  October 6, 1916 (age 34), in the trenches near Courcelette, France
Awarded:
---
Born to Cyrille Laliberte and Judith Smith, Alfred, was also known as Fred Laberty. This Roman Catholic, single driver had no previous military experience. He was older than most of the men on the St Norbert cenotaph, enlisting in his 30's. He stood 5 foot 6.5 inches tall and weighed 145 lbs. His eyes were brown, his hair black and his complexion was dark. Alfred's brothers, Paul Laliberte, Regimental Number 216098 and Joseph Laliberte, Regimental Number 2380005 also fought for the allies.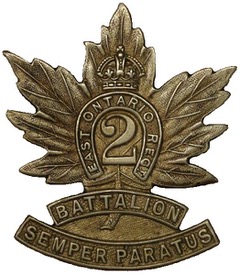 2nd Battalion
Cap Badge
The first thing that stands out regarding his service was that he was shipped to England only a month after enlisting. With no previous military service, this was unusual. However, he did spend eight months in England. Alfred was a reinforcement to the 2nd (Eastern Ontario) Bn after the battle of Mount Sorrel. The CEF lost almost a third of its effective fighting force there, and new men were rushed up in a hurry. He spent only three days at the CBD at the Havre, when the usual minimum was at least thee weeks. At the end of August, the three divisions of the Canadian Corps were moved from the Ypres Salient to the Somme battlefields.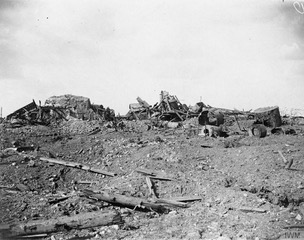 When he rejoined the 2nd at the Somme, the battalion was in front line trenches near a landmark known as the Sugar Factory. The Sugar Factory was important as it had an excellent well for drinking water, something hard to find at the Somme. It was the scene of intense hand to hand combat. A short distance away, a Mills Bomb grenade was more recently found in a field. The war is always close by in this part of France.
In early October, the 2nd Bn went into rest billets near the town of Albert. That town was a famous cross-roads, landmarked by the Hanging Virgin on the Notre Dame de Brebieres Cathedral. The legend was that, when the Hanging Virgin finally fell, the war would end soon after. French sappers, though, wired the base of the statue firmly in place. Every Canadian soldier who fought at the Somme, including Alfred Laliberte, would have marched under the Hanging Virgin. Today the statue has been restored and re-gilded. On a sunny day, it shines like a beacon, visible for twenty miles or more. On October 05, the 2nd Bn returned to the front lines, just west of Courcelette. The battalion war diary for October 06 noted that all was quiet, and nothing significant happened. But Alfred and three others were killed by artillery.
---
Attestation and other Papers
His grave is in the 2nd Canadian Cemetery, Somme, A 6
He is commemorated in the First World War Book of Remembrance, page 115
His name is inscribed on the St Norbert, MB War Memorial
Veterans Affairs Canada Link
Library and Archives Canada File RG150, 1992-93/166, Box 5322-80
*with files from Jim Busby and Brian Cyr
Lest We Forget