PRIVATE MICHAEL ERNEST RYAN
Regimental #288432
Born:  August 21, 1895, St. Boniface MB
Occupation:  Farmer
Enlisted:  April 18, 1916, 14th Battalion, Canadian Infantry
Killed in Action:  August 9, 1918 (23 years) near Warvillers, France
Although Killed in Action, Private Ryan had been hospitalized previously due to in influenza outbreak that caused a planned military action to be halted
Awarded:
---
The son of Michael Ryan and Marie Angela Dodancourt, Ernest was a single, Roman Catholic farmer in St Norbert. At just 20 years of age, he stood 5 foot 2 inches tall and weighed 150 lbs. Along with his brown hair and eyes, he had a dark complexion. His brother, Joseph Albert Ryan, Regimental No. 288234, cousins Frank James Ryan, Regimental No. 106531, and Michael Auburn Ryan, Regimental No 288321, also fought for Canada.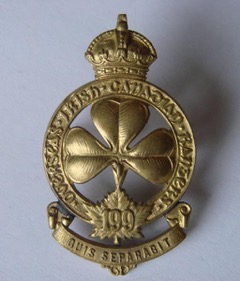 199th Battalion
Cap Badge
Private Albert Ryan enlisted in the 221st Battalion along with Roger Chartrand, Joseph Frobisher, James Normand, and brother Albert Ryan.
Ernest enlisted with the 221st Bn a couple of weeks after his brother, but did not remain with the 221st. In November 1917 he transferred to the 199th (Irish Rangers) Bn based in Montreal, and sailed to England with that battalion. The 199th presented itself as a battalion for Irish Canadians. The battalion claimed that it would be going to the front intact, something hard to defend when, by now, all battalions sailing to England went with the knowledge that they would be broken up on arrival. For a short time, the 199th was part of the Canadian 5th Division, at that time part of the UK Home Defence Army. In January and February 1917, the battalion made a recruiting tour through Ireland. This was at a time when many Irish were still bitter about the 1916 Easter Uprising and the heavy handed British response. Predictably, the 199th was broken up in May 1917, and Ernest was posted to the 14th (Royal Montreal) Bn. He was slightly wounded by gas on August 30, 1917, but was back on duty within a few weeks.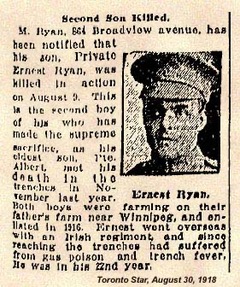 Eleven months later, the Cdn Corps began to see clues, (although no one knew it then) that a serious disease was about to be unleashed. Ernest came down with Influenza in June 1918. So many in the 14th were affected that a planned move had to be cancelled. The Allies launched their final great offensive of the war on August 08, 1918. The following day the 14th attacked from the town of Caix toward Warvillers. This involved crossing an open field in full view of enemy machine guns. Ernest was killed during this attack. After the battle, his remains were recovered and buried in what was intended to be a temporary cemetery, known as CA 4, (C = Canadian; A = 1 Division, Cemetery 4). After the war, it was re-designated as a permanent cemetery, now known as Manitoba Cemetery.
---
Attestation and other Papers
He is interred at Manitoba Cemetery, CAIX, Somme, France, C 15
He is commemorated in the First World War Book of Remembrance, page 495
His name is inscribed on the St Norbert, MB War Memorial
Veterans Affairs Canada Link
Library and Archives Canada File RG150, 1992-93/166, Box 8576-07
*with files from Jim Busby and Brian Cyr
Lest We Forget